If I see one more selfie on a national awards show, I may gag. It's getting rather tiresome, seeing grown-ups climb aboard a bandwagon that usually has reserved seating for self-obsessed teenagers.
Sure the made-up word entered the OED last year — but so did jorts and fauxhawk in 2012. It also trumped the word 'schmeat", the new word for fake meat. In case you needed to click on the above link, you are probably like me, shaking your head in despair.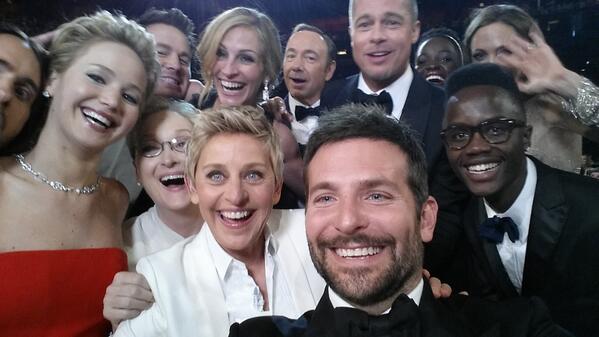 But to get back to selfies, yesterday on the Country Music Awards, there was a selfie moment, and we wondered whatever happened to human ingenuity. Didn't Ellen make it clear that she owned that brightly lit space that celebs inhabit?
Just to cement the fact that we are in that moment in time when this awful word is rushing to meet us, there's that annoying song. Obnoxious, albeit a wonderful parody of selfie culture. It's title: "Let Me Get a Selfie."
To add to this there's the pres of the United States fawning over a selfie, as if it was the best thing that happened to image management –with a touch of product placement. I understand the man is desperately going after all the Likes and re-tweets he can get.
It's time for people over 21 to calmly put away their phones and start real conversations.